who is protecting your rights?
We are your advocate.
As a general practice firm, we handle a variety of cases. For our clients, this means that we are able to help with a multitude of issues throughout their lives or with their businesses. Our goal is to build relationships with people, not just solve a one-time problem. When a legal question arises, our clients know we are a trusted resource.
Our attorneys have specific skills in several areas of the law, allowing us to serve many different people and businesses in Southeast Missouri and Southern Illinois. From farmers to families, our knowledge will provide you with the support you are seeking, both now and in the future.
We are truly a "one-stop shop" in regards to solving legal problems. In many ways, it is challenging to list all areas in which we can help people, so please contact us if you have any questions. If we can't help you, we will try to refer you to someone who can.
Our practice areas include: 
There's something to be said for continuity. It's gratifying to have clients come back to us because they know we can help in another area of their lives; and it shows they trust us.
We know how difficult divorce or other family issues can be. We can help bring clarity during a challenging time. We'll be proactive in making sure you can accomplish what is best for you and your loved ones.
Attorneys:  Richard Steele, Kristi Hoff, Cody Samples
We can help bring your business idea to fruition or assist with more complicated transactions. Whether you're a startup or a well-established company, our team has your best interest in mind.
Attorneys:  Richard Steele, Craig Billmeyer, Bradley LaBruyere
We assist insurance companies by providing defense to the insurers in direct actions and by representing insureds in claims involving premises liability, workers' compensation, negligence claims, and automobile accident cases, to name a few.
Attorneys: Matthew Mocherman, James Laramore, Grace Davis
Banking Litigation and Foreclosures
We assist banks with commercial and residential foreclosures, as well as with post-foreclosure possession and deficiency matters.
Attorneys: James Laramore
We represent financial institutions and other lenders to oversee bankruptcy, foreclosures and general litigation matters surrounding revolving accounts, lines of credit, loans, mortgages, etc.
Attorneys: Paul Berens, Grace Davis
Medical Malpractice (Defense)
We represent physicians, providers and insurers with claims made against them as a result of a medical procedure.
Attorneys: James Laramore, Grace Davis
Federal Law
Several of our attorneys are licensed to practice in Federal Courts and do so in a wide variety of cases.
General litigation
We are a full-service firm, so we represent people and entities through a variety of simple or complex legal matters. It's best to reach out to us directly to see how we can help you solve your legal issue with the most favorable outcome. All of our attorneys practice general litigation — meet our attorneys.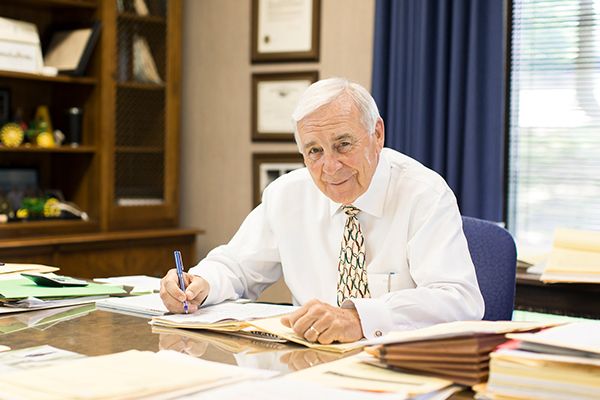 a personable approach
Here to Listen 
We understand dealing with legal issues is stressful, but we're here to bring clarity and confidence. Find out the top five reasons why you should choose our firm.